Africana Studies Collection
A Place of Inspiration – The Africana Studies Collection
We are excited to feature the new Africana Studies Collection in the University Library. We collaborated with colleagues in academic departments and Student Affairs to launch the Africana Studies Collection space on the third floor of the Love Library in the Spring of 2023. In addition to adding hundreds of new books on topics related to Africana Studies and Black culture, we created a dedicated space for students to explore our rich print and digital collections related to these topics. The space has been designed to welcome students into the space with artwork and archival images of Black leaders from SDSU and beyond.
Taharka Adé, Assistant Professor in the Department of Africana Studies, said this at the collections grand opening, "SDSU's upcoming Africana Studies Collection is an impressive assemblage of knowledge of the African world. The collection is very promising and will provide a versatile experience for students, faculty, staff, and those in the community seeking to broaden their horizons on the historical, cultural, and intellectual heritage of people of African descent."
About the Name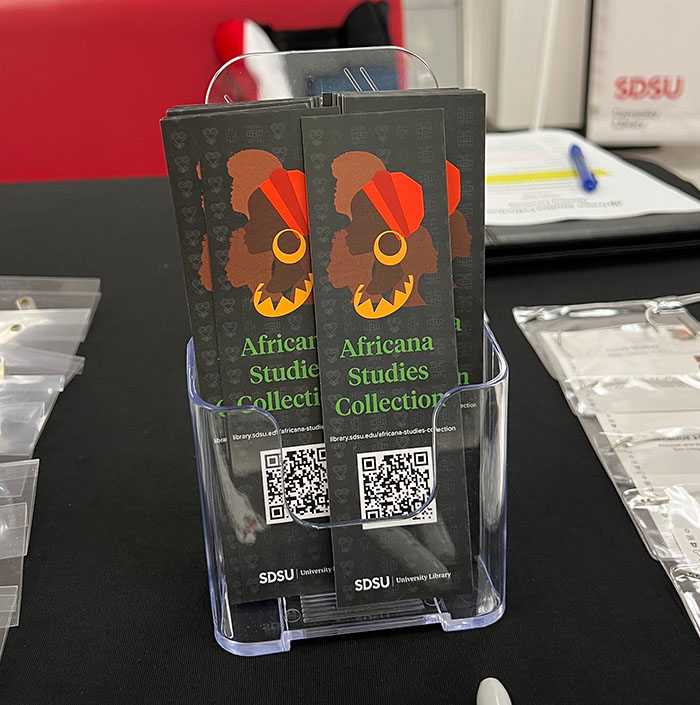 As the collection was created, there was considerable discussion about the name – should it be "Black Studies Collection" or "Africana Studies Collection"? Faculty members, students, and campus leaders were consulted and the final agreement was to name the space "Africana Studies" to be more inclusive of the Black and African diaspora.
Brandon Gamble, Executive Director of the SDSU Black Resource Center, expressed the reasoning this way, "Africana Studies is the more contemporary name and effort of the discipline, which began with my mentor Dr. Nathan Hare, over 50 years ago as "Black Studies" at SFSU. Moreover, it provides a Pan-African scope to the SDSU's President's efforts at internationalization of our curriculum and scope in our work as educators."
Creating The Africana Studies Collection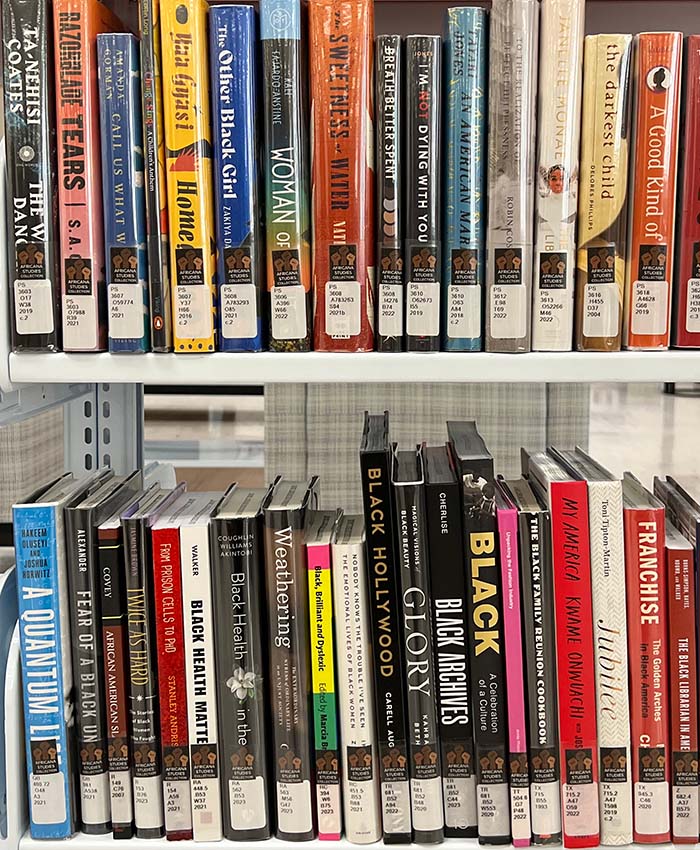 Librarians, especially Outreach and Diversity Initiatives Librarian Gloria Rhodes, consulted with faculty and campus colleagues in identifying materials to be included in the Africana Studies Collection space, and dedicated funding has been set aside to acquire materials targeted for inclusion. Materials include both academic works as well as contemporary cultural references. Rhodes describes the collection as, "Showcasing who we are as a people." More than 300 new books and materials have already been purchased and are ready to be placed on the shelves as soon as the space is finished.
The Africana Studies Collection builds upon decades of University Library work to acquire and promote the use of materials related to the collection. Over the past 50 years, SDSU library faculty, including Rhodes, retired librarian Robert Fikes, and others, have built an Africana Studies Collection designed to support teaching, learning, and scholarship across the university.
"The library holds rich archival and print collections documenting the local Black community, civil rights and the Black experience at SDSU. The Africana Studies Collection will expand and highlight these efforts, and provide a dedicated space for students to celebrate Black history and heritage," said university archivist Amanda Lanthorne.
University Library Dean Scott Walter said, "While the Africana Studies Collection will house only a fraction of the resources SDSU holds in this broadly interdisciplinary area of scholarship – print, digital, and archival – it will serve as a highly visible gateway into the full collection."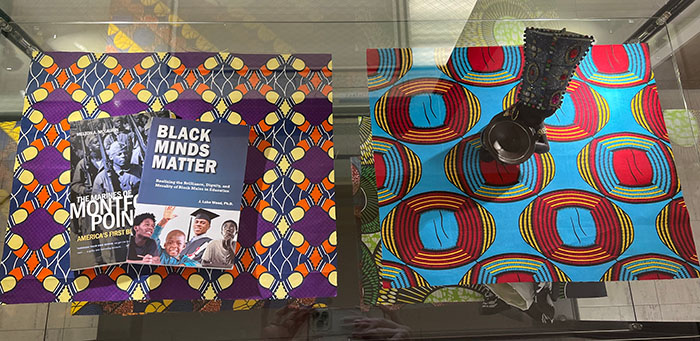 These materials, both new and old, will inspire students pursuing their personal interest, undergraduates completing class assignments, and graduate students and faculty for their research. Being able to browse through the materials in a single place allows for the serendipity of finding a new resource or quickly exploring a new idea.
Amira Moore, Vice President of the SDSU Afrikan Student Union, said, "The Africana Studies Collection embodies the diverse and intricate nature of Black culture, serving as a source of empowerment and reverence. In an era where endeavors to erase our history still persist, having easy access to our narrative is a true privilege. With its comprehensive coverage of Black people's influence at SDSU and globally, the Africana Studies Collection is a valuable asset to the library."
Creating a Space To Highlight the Collection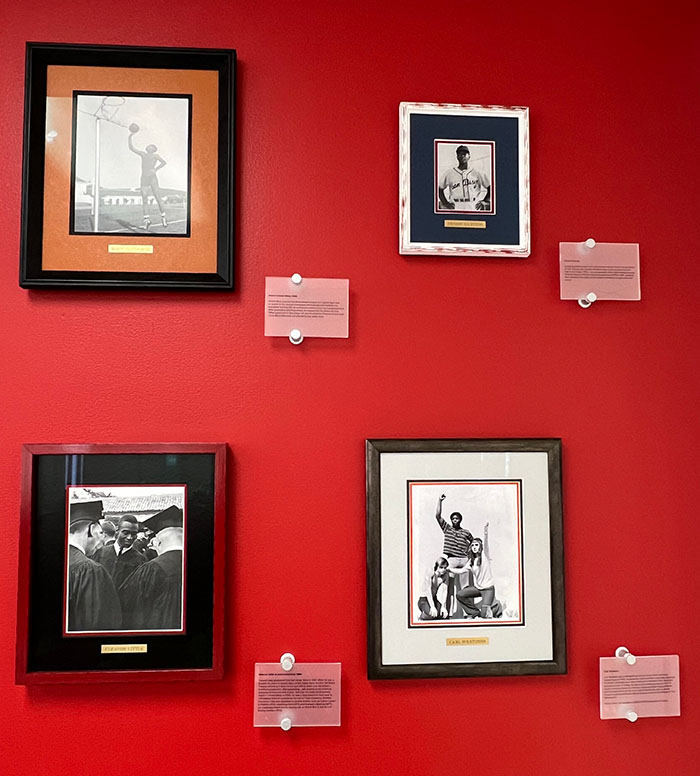 To provide further inspiration, the Africana Studies Collection features furniture with Adinkra symbols and uses colors from African flags or symbolizing African royalty. The study rooms in this area have been repainted with accent walls in colors highlighting the African diaspora.
The furniture includes high tables and chairs, which are very popular with students, as well as seating clusters. Electrical outlets for charging electronic devices are plentiful and additional computer workstations are also located in the area.
The Africana Studies Collection is on the third floor of Love Library, adjacent to one of the study lounge areas. This placement will provide flexibility and allow us to host events in the space.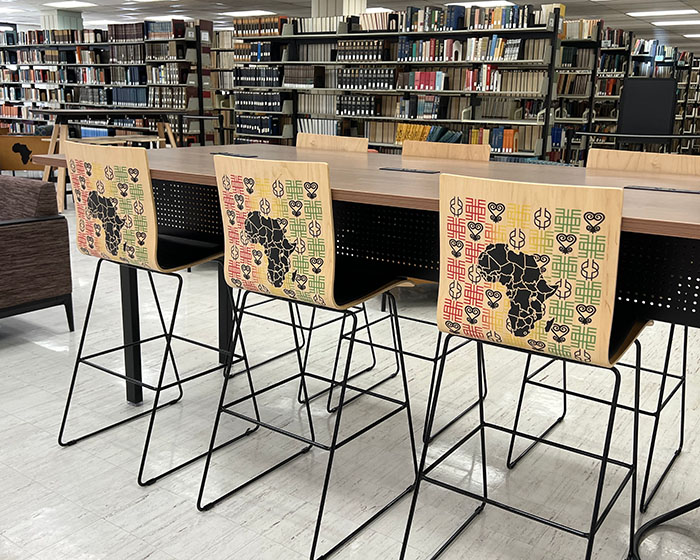 We Need Your Support
As we continue to create this inspiring collection area, we need your help. Please consider a gift of:
Any amount to support the purchase or books or other materials
$100 or more to sponsor a chair
$500 or more to sponsor a table
$12,500 or more to name one of the 6 study rooms in this area after influential Black leaders in the SDSU community
A substantial gift for a naming opportunity for the space
​Please donate in support of this special collection today!
Contact Tammy T. Blevins, Associate Director of Development, College of Arts & Letters and the University Library, for additional information at [email protected].