Working at San Diego State University
Benefits
SDSU offers a substantial benefits package that constitutes a significant portion of the employee compensation. These benefits include participation in the California Public Employment Retirement System (CalPERS), multiple voluntary savings plans, complimentary life insurance, an array of no-cost and low-cost HMO and PPO plans for individuals and families, two vision plans, two dental plans, and more. Librarians can see more detailed information on the Faculty Benefits page from SDSU's Human Resources and the California Faculty Association's Bargaining Agreement for Unit 3. Staff can see more detailed information on the Benefits page from SDSU's Human Resources and the Contract from the CSUEU.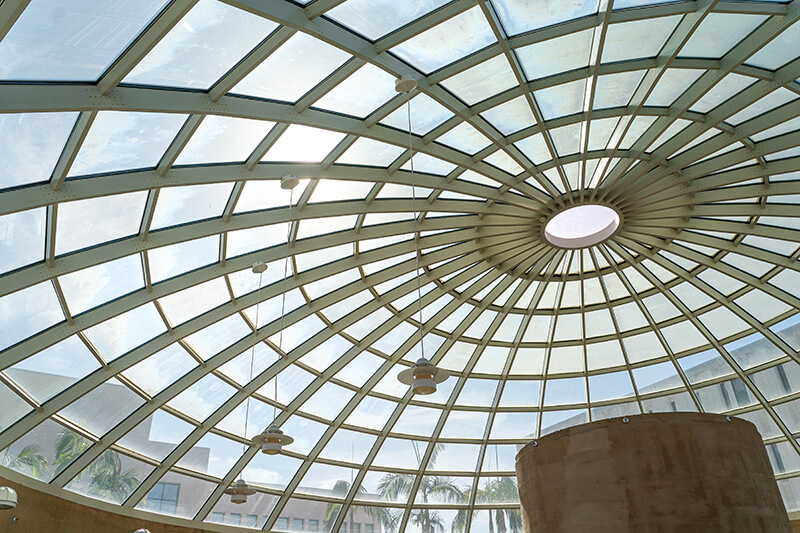 Living in San Diego
Based on NOAA data, San Diego and Tijuana, which is the last stop on the San Diego trolley line, have the Most Pleasant Days a year, so it no surprise that we are referred to as "America's Finest City." In addition to the beautiful weather, San Diego always has something to do. San Diego is home to several miles of beautiful beaches, mountains, and desert for the outdoor enthusiast. San Diego is the second largest city in California with several wineries, breweries, fine dining restaurants, and cultural attractions that cater to people with more cosmopolitan interests. Last, but not least, our proximity to the Mexican border gives San Diego a unique, transborder identity and allows San Diegans to experience all that Baja California has to offer.
Commitment to Diversity, Equity and Inclusion
As a Hispanic-Serving Institution located on the traditional lands of the indigenous Kumeyaay people, both the San Diego State University Library and San Diego State University are deeply committed to supporting our diverse population of students, faculty, and staff. More details about the library's commitment to equity, diversity, and inclusion as well as our long-term EDI goals can be found in our Diversity Statement (link pending), and more information about the broader campus commitment to EDI, including goals and initiatives, can be found in the web pages from the Division of Student Affairs and Campus Diversity.
Campus Resources, Amenities, and Cultural Activities
San Diego State University offers a wide array of employee resources, amenities, and cultural activities. The SDSU Division of Diversity and Innovation (DDI) has developed a number of Employee Resource Groups (ERGs) to build an inclusive environment for SDSU employees from various employment groups, with particular attention to employees from historically underrepresented and underserved backgrounds. SDSU faculty are eligible for discounted rates for many of the Aztec Recreation Center classes and facilities, including those offered by the Mission Bay Aquatic Center. There are a variety of dining options on campus or within a short walk from campus that accommodate virtually all dietary restrictions, and we are walking distance from a Trader Joe's supermarket.
SDSU Faculty and Staff are eligible for discounted season ticket packages to Football, Men's Basketball, Women's Basketball, Baseball and Softball. The School of Theatre, Television, and Film hosts a variety of Plays, Musicals, and Film Screenings on campus in the Don Powell Theatre and the Experimental Theatre. There are also two concert venues on campus, the Viejas Arena and the Cal Coast Credit Union Open Air Theatre. In the past year, these venues have hosted artists including the Who, Lizzo, Anderson Paak & the Free Nationals, Vampire Weekend, and KISS. No matter what your interests are, SDSU has something for everyone.
Convenient Public Transit Options, Bikeways, and Affordable Parking
SDSU is also well connected to several destination neighborhoods in San Diego via Public Transit such as Downtown, Gaslamp, North Park, Normal Heights, Hillcrest, as well as nearby cities like La Mesa and Santee. SDSU hosts a Trolley stop on the Sycuan Green Line and several bus routes. For more information about rates and schedules, see the Metropolitan Transit System (MTS). If you are interested in riding a bike to work, San Diego has over 1,000 miles of bikeways, and the Metropolitan Transit System (MTS) accommodates bicycles for riders who want to combine bicycle travel with public transit. Lastly, SDSU offers affordable parking permits for automobiles and motorcycles with several reserved spots for Faculty and Staff, and the latest Permit Fee schedule can be for Faculty (Unit 3) can be found in the SDSU's Permits page under Parking & Transportation.
Contact Us
University Library
5500 Campanile Drive
San Diego, CA 92182-8050