Deliberate and Afraid of Nothing: 200 Years of Women's Activism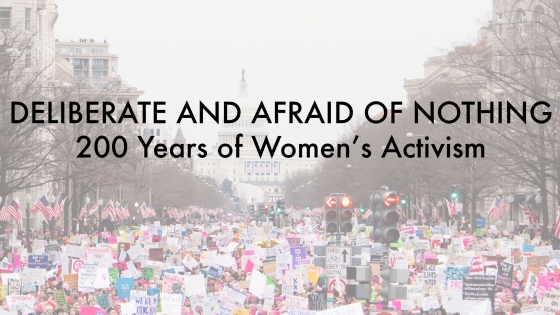 Location: Donor Hall, San Diego State University Library
Dates: January 2020 through December 2020
In 2020, we celebrate 100 years since the ratification of the 19th amendment, the most significant expansion of voting rights in United States history. Women's suffrage is synonymous with "first wave feminism" – historians love to categorize women's history into waves. Yet, the tide of activism has never really ebbed and it's time to stop thinking of feminism as a singular concept. Our understanding of gender struggles is more complete when it considers intersections with other identity markers: race, class, age, religion, disability and sexual orientation, to name a few. The collectivity of these feminisms lies not in a preferred definition, but in the shared right to freedom from oppression. While specific figures and events have helped shape a long, ongoing march towards equality, those on the ground can confirm that the fighting can't stop, won't stop. As poet, librarian and feminist Audre Lorde once wrote, we must be "deliberate and afraid of nothing." That is the activist's charge.
While there is still much to be done, there is also much to celebrate. The right to vote launched a broader movement that would take on issues including discrimination, equal opportunity, violence against women, bodily autonomy, and a whole host of firsts in leadership, politics, the military, sports, education and elsewhere. Special Collections and University Archives is proud to collaborate with the Department of Women's Studies in documenting the struggles and victories of women's history at San Diego State University and across the nation. As we commemorate women's suffrage and the founding of the Department of Women's Studies, we invite you to explore and contemplate these moments in their broader historical context.
Related Events
50th Anniversary Kickoff
Thursday, January 31, 2020 at 2pm
San Diego State University Library, Donor Hall
Gender and Social Justice Festival
Saturday, April 25, 2020 from 10am to 6:30pm - POSTPONED due to COVID-19 social distancing
SDSU Student Union
The exhibit is open the same hours as the main library. For information on visitor parking, please visit the parking information webpage. A map for disabled access is also available.
This exhibit is brought to you by Special Collections & University Archives | SDSU Library and the Department of Women's Studies.