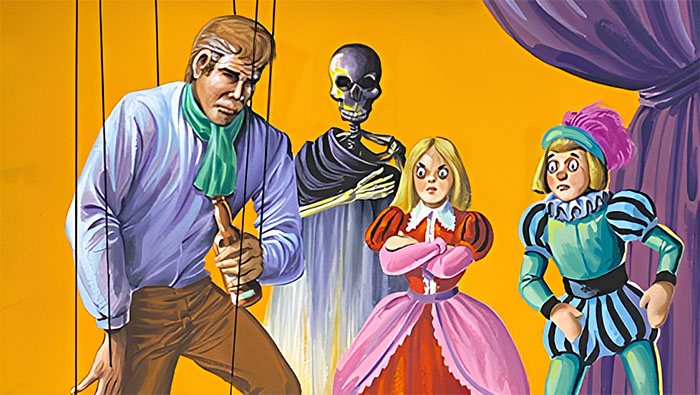 Special Collections and University Archives is beyond thrilled to announce our acquisition of a collection of cover art from rare Mexican pulp mini-comics! The collection of 89 incredible gouache paintings, the majority with their corresponding printed comics, ranges from approximately 1969 to 1980. Artists include Rodolfo Federico Antonio Fraga, Luis Perez, R.A. Dorantes, T. Zavala, Antonio Luna, Marin, and Jorge A. Baduy, as well as several yet-to-be-identified (research project, anyone?)
The array of artistic styles draws influence from mid-Century American pulp art but with bold and aggressive imagery, in primary colors, evocative of the content. Per the seller's description, (because how could we say it any better?):
"One might easily dub the Giallo-reminiscent fusion of many of the works as "Colonial Gothic Horror," in which zombie Aztecs and Conquistadors, haunted monasteries, secret treasures, and ghostly horsemen illustrate a coded and psychedelically skewed rendition of Mexico's violent colonial history. Others depict sci-fi fever dreams of alien visits, technology run amok, vengeful objects, sorcery, and natural forces in revolt—nightmarish intrusions of the absurd and unexpected, parables of anxiety and dread."
Get excited! We plan to display these imminently, and they're also available for research when we resume in-person appointments in the fall. Until then, enjoy some photographic eye candy, as well as words of support from our colleagues in the College of Arts & Letters who look forward to seeing their use:
"From my perspective--teaching HIST 157 and working now on some 1950s/60s horror comics with witches--it looks like a great addition to the collection both for us doing work here...and for the scholars we hope to lure..."
–Dr. Elizabeth Pollard, SDSU Dept. of History

"As far as collections of 20th century mexican ephemera goes, it's a coup for the library...It would make for a remarkable exhibition (and book for SDSU Press)!"
–Dr. William Nericcio, SDSU Dept. of English and Director of the MALAS Program

"I think it would be a fantastic addition to our comics collection and also of interest to scholars in Chicana/o studies, ethnic studies, visual arts, etc."
–Dr. Monica J. Casper, Dean, College of Arts & Letters
Our gratitude to Dr. Casper and Dr. Nericcio, as well as Dean of the Library, Dr. Scott Walter, for making this dream come true!
Want to know more about Mexican pulp art? This fantastic little book is a great general introduction: Mexican Pulp Art: From the Collections of Bobbette Axelrod, Ted Frankel. Los Angeles, CA: Feral House, 2007. Print.